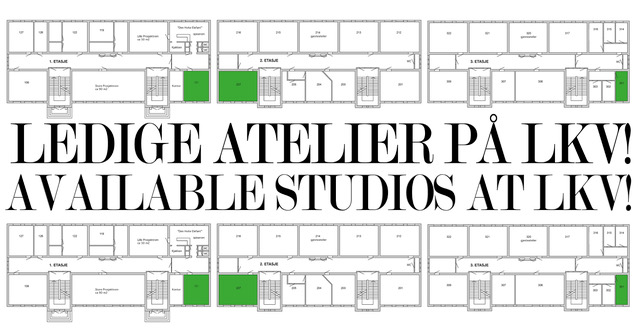 Ledige atelier hos Lademoen Kunstnerverksteder

Rom 101– ca 30 m2 – ca. kr 1900/mnd
Tilgjengelig fra  1. august 2019
For avgangsstudenter fra kunstakademiet, ettårskontrakt.
Rom 207– ca 48 m2 – ca. kr 2470/mnd
Tilgjengelig fra april 2019
Rom 301– ca 18 m2 – ca. kr 910/mnd
Tilgjengelig fra juni 2019
Rom 207 og 301: femårskontrakt, med mulighet for fornyelse i fem år til.
 Søknadsfrist 11. mars 2019
LKV er Trondheims største atelierfellesskap for kunstnere. Her finnes 41 atelier, i tillegg til 2 prosjektrom og verksteder for arbeid med grafikk, tre, metall og analog foto. Verkstedene ved LKV er tilgjengelige for LKVs faste leietakere og alle andre profesjonelle kunstnere i Trondheim.
Søknaden må inneholde:
Hvilket atelier du søker på
Søkers bostedsadresse
CV og portfolio
Kortfattete planer for det kommende året
Kort beskrivelse av hvordan du ønsker å bruke atelier og verksteder ved LKV
Søknaden sendes elektronisk og samlet i én pdf-fil. Hvis søknaden inneholder lyd eller video sendes dette som nettlenke.
Ta kontakt på mail@lkv.no hvis du vil komme og se på atelier og verksteder som er tilgjengelige på LKV eller har andre spørsmål vedrørende utlysning.
Søknad sendes per e-post til:
mail@lkv.no med kopi til Trondheim kommune, Rådmannen for kultur
v/ Pia Skog Hagerup, pia.skog.hagerup@trondheim.kommune.no
Søknader behandles av Trondheim kommunes tildelingsutvalg for atelier. 
Tildelingskriterier kan leses her.
---
Available studios at Lademoen Kunstnerverksteder

Room 101– ca 30 m2 – ca. kr 1900/month
Available from August 1st 2019
For graduating art students, one-year contract
Room 207– ca 48 m2 – ca. kr 2470/month
Available from April 2019
Room 301– ca 18 m2 – ca. kr 910/month
Available from June 2019
Room 207 and 301: five-year contract with possibility for a five-year renewal.
Deadline: March 11th 2019 
LKV is Trondheims largest working community for artists. Here you'll find 41 studios, in addition to two project rooms and workshops for printmaking, metal, wood and analogue photography. The workshops at LKV are available for LKVs permanent tenants and all other professional artists in Trondheim.
Application must contain:
Studio you are applying for
Applicants residential address
CV and a portfolio
Short presentation of your plans the upcoming year
Description of how you would like to use the studio and workshops at LKV
The application must be submitted digitally as a single PDF-file. If your application contains audio or video, send this as an online link.
Contact us on mail@lkv.no if you'd like to have a look at the studio and workshops at LKV or have other related queries.
Send your application via email to:
mail@lkv.no with a copy to Trondheim Municipality, Council for Culture,
by Pia Skog Hagerup, pia.skog.hagerup@trondheim.kommune.no
Applications are reviewed by Trondheim Kommunes Studio Assignment Committee. Award criteria can be found here. (in Norwegian)
207:
Døren vil bli flyttet mot høyre (bilde 2) // The door will be moved towards the right end of the wall.