Who we are
Lademoen Kunstnerverksteder (LKV) is a foundation running a studio collective with workshops and 42 studios for professional artists, the gallery space BABEL visningsrom for kunst and a residency program for visual artists and interdisciplinary projects.
LKV is located in a former school building from 1906, and has workshops for wood and metal, darm room, lithography and graphic workshops, and a ceramic oven. In the old gym building we have four apartments for guest artists. Today almost 50 artists work at LKV. And each year about 25 guest artists from all around the world have residencies at LKV from two weeks to three months. LKVs workshops and projects rooms are also used by external renters for production of art over shorter periods.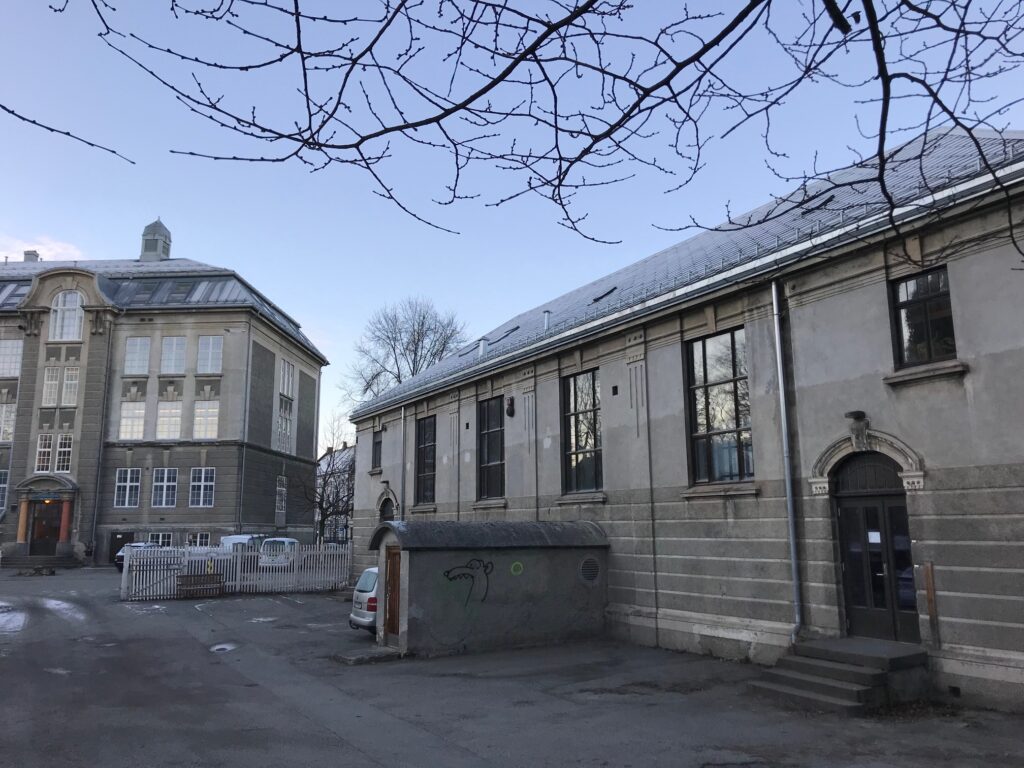 Artists in residency
LKV runs two different AiR programs for professional artists: for visual artists and for interdisciplinary projects. All residency artists will be assigned a studio apartment in the old gym building, and are expected to give a presentation during their stay. If you want to carry out an event or an exhibition at the BABEL visningsrom for kunst, the application for this is included in the application form. Read more about the specific programs below.
The application deadline for both programs is 1 March 2022 at 23:59.
Visual art
The artist in residency program for visual arts is open to professional visual artists in all genres. Applicants can not have a residential address in Trondheim municipality. In the selection of artists, artistic quality is prioritized. In addition, LKV aims for gender balance and geographical spread. Residency artists in the visual arts are assigned a studio in the main building, and have access to the joint workshops at LKV.
Click here to read more about and apply for residency for visual arts.
Interdisciplinary projects
The residency program for interdisciplinary projects is open to professional practitioners in music, literature, visual arts, theater, dance, film, etc. who work with interdisciplinary projects.
The following criterias will be of importance in the selection of applicants:
Participation in projects linked to artists, groups and/or institutions in Trondheim, especially interdisciplinary projects.
Applicants who are planning to take part in the art environment in the city with exhibitions, professional arrangements etc.
LKV will strive to ensure that all art forms (music, literature, visual arts, theater, dance, film and more) are represented in each two-year period.
Click here to read more about and apply for residency for interdisciplinary projects.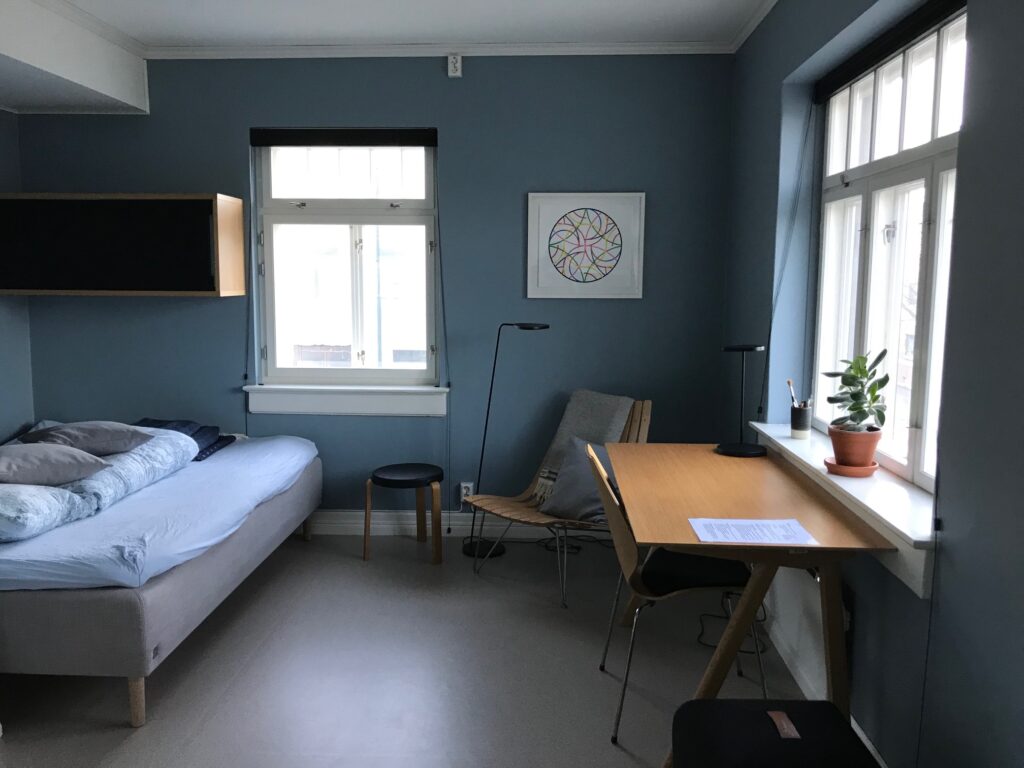 ---
Residency Artists (alphabetical order after years)
2021
Anton Benois – Russia/Australia/Norway
Laura Cemin – Italia (postponed)
Susanne Christensen – Norway
Petra Dahlström – Denmark/Norway
Hanna Ekkeren – Norway
Jan Gemeinhardt – Germany (postponed)
Cecilia Hultman – Sweden
Samuel James – Australia (postponed)
Felix Kalmenson – Russia (postponed)
Kjersti Lande – Norway
Tori Lawrence – USA (postponed)
Sanna Lindholm – Sweden (postponed)
Ida Lundén – Sweden (postponed)
Mumbi Macharia – Kenya (cancelled)
Jolene Mok – Hongkong/UK (postponed)
Marie Nerland – Norway
Mio Oribe – Norway
Enrique Roura Perez – Mexico/Norway
Aleks Slota – Polen/Germany (postponed)
Ellen Henriette Suhrke – Norway
Bendik Vada – Norway
Jeon Wuri – South Korea (postponed)
Sárka Zahalkova – Czech Republic (postponed)

2020
Johan Andrén – Sweden
Vilde Blom – Norway
Hanne Ekkeren – Norway
Juliane Foronda – Canada (postponed)
Dominika Kemilä – Sweden
Danielle Klebes – USA
Kjetil Detroit Kristensen – Norway
Kjersti Lande – Norway
Chadwick Rantanen – USA (cancelled)

2019
Emilio Bernè – Italy
Sarah-Jane Botham – Australia
Leonardo Ciocchini – Argentina
Giulia Deval – Italy
Claire Ducène – Belgium
Åsne Eldøy – Norway
Natalie Frijia – Canada
Hilde Frantzen – Norway
Lisa Gideonsson and Gustaf Londré – Sweden
Miriam Hamann – Australia
Bianca Hisse – Brasil
Karen Petersen – Denmark
Agustina Quiles – Argentina
Hans Scherer – Sweden
Marinus Suijkerbuijk – Netherlands
Nina Svenne – Norway
2018
Temporary brake due to refurbishment
2017
Line Anda Dalmar – Norway
Cecilia Jonsson – Sweden
Carl-Oskar Linné – Sweden
Eden Mitsenmacher – UK/Israel
Laura Moore – Canada
Jóhanna Ellen Ríkharðsdóttir – Norway
Simo Saarikoski – Finland
Melanie Windl – Germany
Tereza Záchová – Czech Republic
2016
Anna Ihle – Norway
Linda Cararra – Italy
Árpád Forgó – Hungary
Klaus Fröhlich – Germany
Christopher Squire – USA
Shanta Rao – France
Wojtek Ziemilsky – Poland
Kadie Salmon – England
Valerie Syposz – Japan / Canada
Dmitry Morozov/::vtol:: – Russia
Christiana Caro – USA
Hyojun Hyun – South Korea
David-Ashley Kerr – Australia
2015
Dan Munn – UK
Vera Boele-Keimer -UK
Martinka Bobrikova & Oscar de Carmen – Slovakia/Spain
Jonathan Monaghan – USA
Kristie MacDonald – Canada
Idun Baltzersen – Norway
Guillermo Cardenas Rodriguez – Cuba
Masashi Echigo – Japan
Patrícia de Herédia – Portugal
Stefan Klampfer – Austria
Rikke Flensberg – Denmark
Jung-Ouk Hong – South Korea
Hyojun Kim – South Korea
Maud Gironai – France
Marita Muukkonen & Ivor Stodolsky – Finland / Germany
Petter Solberg – Norway
Fae Logie – Canada
Milenko Balovic – Serbia
2014
Nadine Monnin – FR
Anna Estarriola – ESP/FI
Mitch Karunaratne – UK
Lena Katrine & Heidi-Anett -Norway
Sibylle Eimermacher – Netherlands
Robert Stark – Germany
Pauline Martinet and Zoe Texereau– France
Robin and Matthew Luther – USA Nadine Monnin – France
Sepideh Rahaa – Iran
Berit Dröse – Danmark
Martina Hodne – NO
Daisy Jordan – UK
Franzisca Siegrist – Spain
Masha Ryskin – USA
Serge Marchetta – Canada
Olof Nimar – Sweden
2013
Antoine Davenne – France
Jennis Li Cheng Tien – Singapore/Berlin
Lloyd Durling – UK
Gokcen Dilek Acay /Turkey
Sarah Walker – USA
Megan Roberts / Raymond Ghirardo – USA
Paula Pereira / Pernilla Andersson – USA
Kristina Kvalvik-Norge/Danmark
Hèlène Juillet – France
Shin Kiwoun – Korea – UK
Clemens Wilhelm – Germany
2012
Nicola Müller – Germany
Wai Kit Lam – Hong Kong
Ismael Sanz-Pena / Spain
Jeroen Glas – Netherlands
William Vannerson – USA
Thomas Rummelhoff – Norway
Terry Berlier – USA
Other People – USA
Jim Holyoak – Canada
Eva Nielsen – Frankrike
Mireille Blanc – Frankrike
Nathalie Lavoie – Canada
Floortje Zonneveld- Netherlands
Robin McGuire – USA
2011
Nikola Uzunovski – Makedonia
Michael Day – England
Delia Keller – Germany
Stine Ofelia Kildevang – Denmark
Beth Evans – Australia
Ryan Pierce – USA
Tom Hollenback – USA
Eeva Maija Priha – Finland
Willow Mitchell – England
Branko Miliskovic – Serbia
Andreanne Fournier-Canada
Christiane Kelsegher – Scotland
Cozette Phillips – USA
2010
Mayumi Ishino – Japan
Joshua Hagler – USA
Mathieu Flammarion-France
Hope Hall – USA
Marita Kusch – Germany
Morgan Craig – USA
Rona Chang – Taiwan/USA
Rena Raedle – Germany
Vladan Jeremic – Serbia
Marte Kiessling – Germany
Bivas Chaudhuri – USA/India
Hondartza Fraga – Spain www
Joost Stokhof – Holland www
Ahmed Ahmed Helmy – Egypt
2009
Julia Barbosa Landois – USA
Shingo Yoshida – Japan
Sarah Oneschuk – Canada
David M.Gibson – USA
Pia Muehlbauer – Germany
Chie Konishi – Japan/Uk
Umaiah Salman – Palestina
Chris Bell – Australia
Charles Matson Lume – Usa
Heather Passmore – Canada
Gavin Peacock – Uk
Alyssa Taylor Wendt – Usa
Julia Wandel – Tyskland
Soo Jung Choi – Korea
Tian Miller – Norway/Scotland
2008
Kelly Andres – Canada
Frede Troelsen – Denmark
Jeff McCreight – USA
Juhana Moisander – Finland
Humberto Duque – Mexico
Tomomitsu Tada – Japan
Fritz Klier – Tyskland
Lina Müller – Switzerland
Sissel Mutale Berg – Zambia
Yann Eouzan – Frankrike
Kristjan Zaklynsky – Island
Zoe Anspach – England
2007
Edward Clive (England)
Jasmina Bosnjak (Serbia)
Caroline Hussey (Scotland)
Anna Sara Loe (Norway)
Takashi Mitsui (Japan)
Amarchi Okafor (Nigeria)
Maxeem Zaqtan (Palestina)
Sean Kennedy (USA)
Lucy H.G. (USA)
Hope Tucker (USA)
Helen Johnson (Australia)
Ehryn Torell (Canada)
Toby Messenger (Scotland)
2006
Kezia Pritchard (England)
Corina Steiner (Switzerland)
Helen Quinn (USA)
Peter Lang (Germany)
Tim Gilman-Sevcik (USA)
Nayoungim (Germany)
Frank Haines (USA)
Hideki Kanno (Japan)
Hagenbach Andreas (Switzerland)
Caitlyn Masley (USA)
Minna Sora (Finland)Inga Darguzyte (Lithauen)
Frederico Camara (Brasil)
Yoko Lida (USA)
Kirsten Rønnevik (Sweden)
Polske kunstnere og Hege Lønne

2005
Lucy H. Griesbach (USA)
Marnie Moldhauer (Germany)
John Herschend (USA)
Chris Elsmore (England)
Nancy Mladenoff (USA)
Giulia Resteghini (England)
Miranda Peake (England)
David Keating (Australia)
Mary Theresa Keown (Ireland)
Hansam Son (Korea)
Astrid Bielmeier (Germany)
Jad Salman (Palestina)
2004
Sean Lynch (Ireland)
Grant Hill (Australia)
Agnieszka Borkowska (Poland)
Lynn Gufeld (USA)
Agatha Nalumansi (Uganda)
Gregory MacKay (Australia)
Adam Davis (USA)
Liv Rygh (Norway)
Petri Ala-Manus (Finland)
Caroline Dang (Australia)
Cornelia Roelh (Germany)
Sebastien Camboulive (France)
Alexander Konstantinov (Russia)
2003
Allison Geber (USA)
Gerhard Stromberg (England)
Garth Amundsen (USA)
Duncan Marquiss (England)
Tracey Adams (New Zealand)
Ellie Brown (USA)
Benny Ramsay (Canada)
Amanda Dunsmore (Ireland)
Sara Lievonen (Finland)
Mark Clare (Ireland)
2002
Neringa Zukauskaite (Lithauen)
Peter Haakon Thompson (USA)
Gunhild Thompson (England)
Ina Hattebier (Germany)
Anne Sara Loe (Norway)
Henk Lassche (Holland)
Sandra Chandrasekaran (Singapore)
Vibeke Jensen (Norway)
Guttorm Nordø (Norway)
Jill Borton (England)
Roman Franta (Czechoslovakia)
Teresa Gillespie (Scotland)
Tone Johansen (Norway)
Ciara Bedingfield (England)
Alice Peillon (Ireland)
2001
Masha Ryskin (USA)
Peter Haakon Thomsen (USA)
Maxine Adcock (England)
Michael Edgerton (USA)
Aeneas Wilder (Scotland)
Mario Benicio (Brazil)
Pia Lehti-Teder (Finland)
Eremias Ekube (Eritrea)
Tone Nyarkho (Norway)
Andrew Williams (England)
Paul Bevan (England)
Christine Waller (Sweden)
Kristina Isaksson (Finland)
Tiina Vaino (Finland)
Diana Mercedes Alonso Germany)
2000
Anna K. Hedberg (Sweden/England)
Johanna Lundin (Sweden/England)
Nike Nilsson (Sweden)
Rolf Schaffner (Spain)
Kota Ezawa (USA)
Greta Gjøl Hagen (Norway)
Jakob Dahlgren (Sweden)
Trine Haaland (Norway)
Marianne Rouvier-Angeli (England)
Susanne Lyner (Switzerland)
Heike Hamann (Germany)
Masha Ryskin (USA)
Eva Laila Hilsen (Norway)
1999
Ellen Thrap-Meyer (Norway)
Emily Richardson (England)
Paula Williamson (Brasil/USA)
Albert Braun (Finland/Germany)
Paul Schwer (Germany)
Jørgen Fog (Denmark)
Keith Coventry (England)
Paul Noble (England)
Kimmo Schroderus (Finland)
Beatriz Barral (Spain)
Meki Ali Shokri (Iraq)
1998
Håkon Grønlien (Norway)
Henny Lie (Norway)
Kari Elisabeth Dahlmo (Norway)
Quirin Jedlicka (Czechoslovakia)
Petr Jedlicka (Czechoslovakia)
Aino Näslund (Sverige)
Vigdis Bøyding (Norway)
Åse Hunstad (Norway)
1997
Barry Gunderson (USA)
Guttorm Nordø (Norway)
Gjertrud Hals (Norway)
Franscois Roche (France)
Vibeke Slyngstad (Norway)
Eirik Austlid (Norway)
1996
Barry Gunderson (USA)