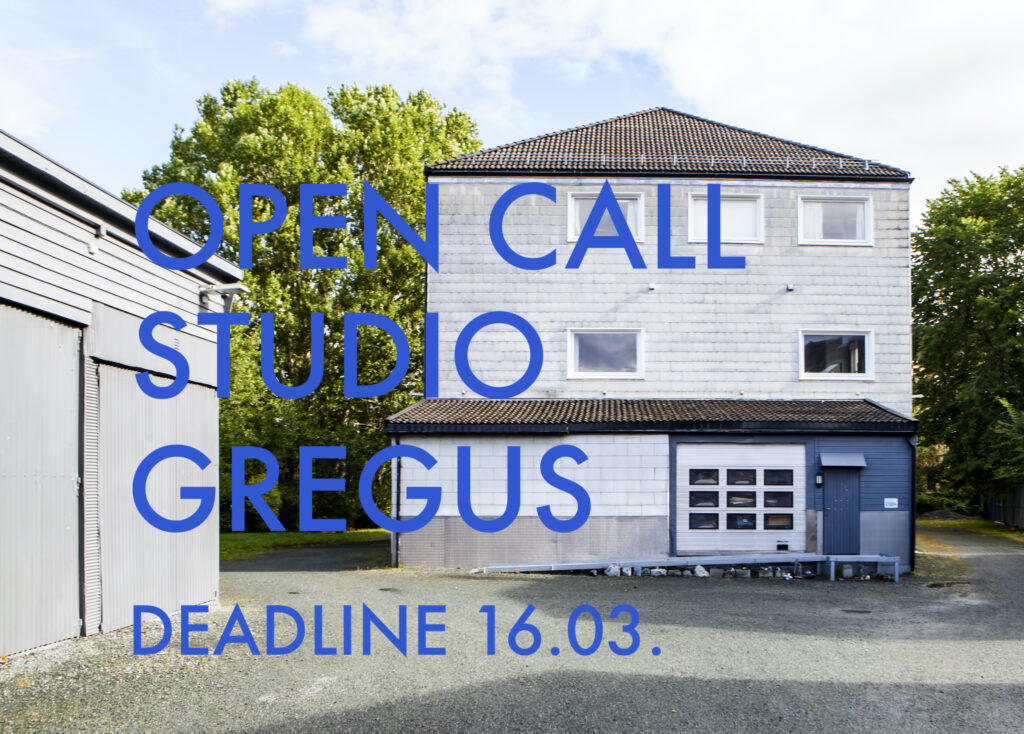 Application deadline: March 16, 2022
Studio 11 – 2nd floor (Norwegian 3. etasje) – ca 56 m2
Rent to the municipality: NOK 2512, – / month
Common expenses fee in addition to the rent: NOK 1373 / quarter
Available from May 1, 2022
Five-year contract with possibility for renewal.
Artists at Gregus Kunstnerverksteder pay a deposit of NOK 1,000 when moving into the studio community. Upon leaving the community, the artist gets the deposit refunded, deducted any unpaid bills to the community.
Gregus Kunstnerverksteder is a studio community for visual artists. The community is organized in the Brønnøysund register as a tenant association. The studio community has 12 studios on the 2nd and 3rd floor in Gregus Gate 7.Gregus Kunstnerverksteder is currently without a lift and the stairs are narrow. The studio can therefore not be used for the production of larger works than what can be carried up and down through the stairwells.
Application must contain:
– Applicant's full name, registered address, residential address, email address, telephone number, organization number and other relevant contact information.
– CV and a portfolio
– Short presentation of your plans the upcoming years
– Description of how you would like to use the studio
The application must be submitted digitally as a single PDF-file, max 10 pages. If your application contains audio or video, send this as an online link in the application.
Applications are reviewed by Trondheim Kommunes Studio Assignment Committee. Award criteria can be found here (in Norwegian): https://www.trondheim.kommune.no/atelier/
The manager of Lademoen Kunstnerverksteder (LKV) is the secretary of Trondheim Kommunes Studio Assignment Committee and receives all applications.
Send your application via email to apply@lkv.no, marked «application Gregus 11». Contact the chairman of the board at Gregus Kunstnerverksteder Randi Heitmann Hjorth (randi.h.hjorth@gmail.com) if you want to come and look at the studio that is available or want further information about the studio community.
Photo: Trondheim Open / Hanna Fauske