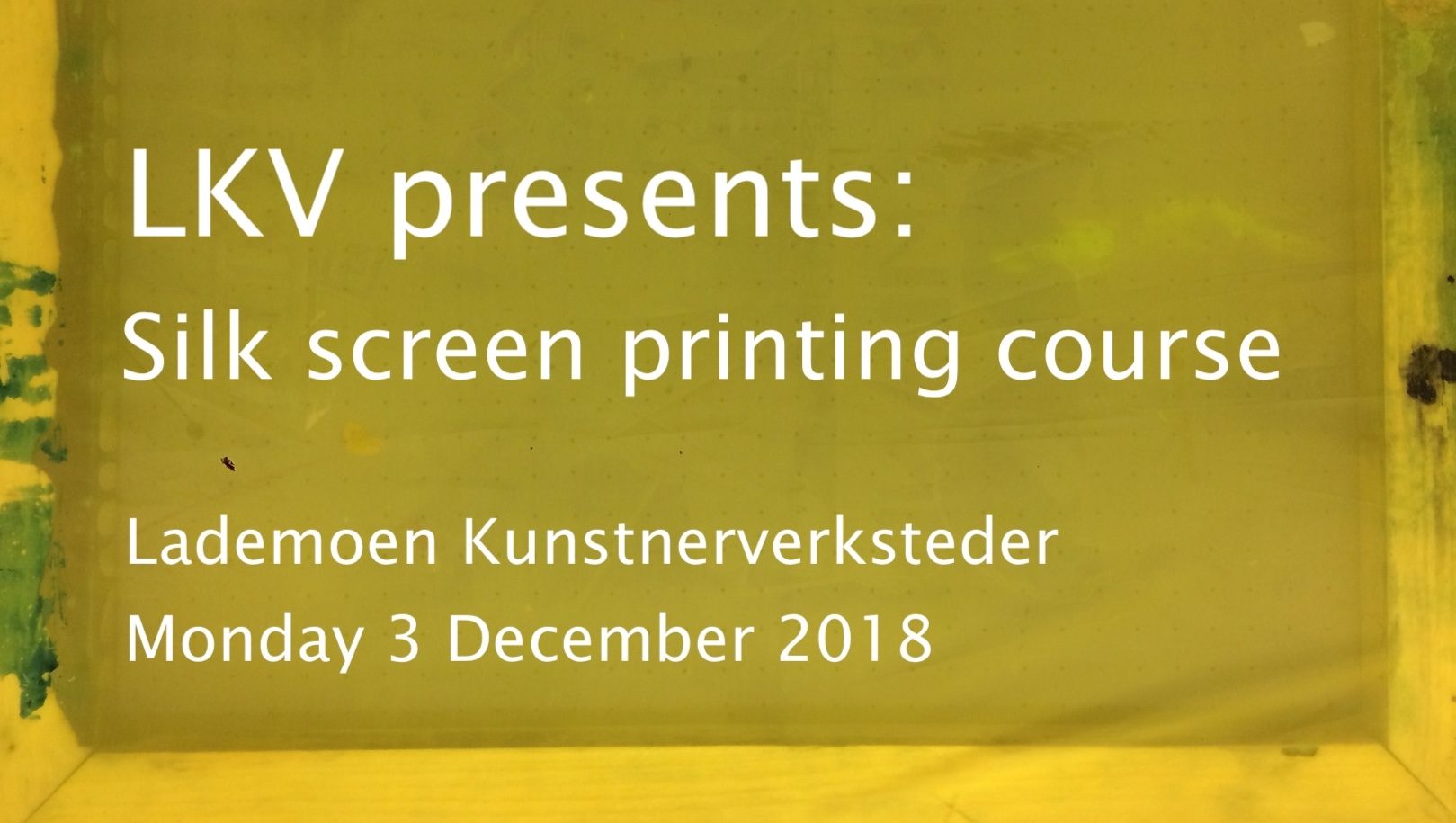 Screen printing course at LKV with Louis Everard Monday 03.12.
The course will give you an introduction to 3-layer screen printing, including transferring your image to a prepared screen using ultra violet lights and hand printing the image. 
The maximum amount of participants is 4, and registration can be done by sending an e-mail to: mail@lkv.no. Registration is binding. The price for the whole course is 1200,- 
Participants need to bring the following:
– The image they want to print on a transparent sheet,
– their own paper to print on, 
– Acrylic paint to print with.
The design must be A4 in size, as we are printing onto A3 paper.
The paper has to be the size A3, 220g minimum. X20 pieces maximum.
We will supply the frames, emulsion, emulsion remover, screen print medium (for acrylic).
The course will start at 12.00 and continue to 17/18 estimated. The course will be held in English.
Silketrykk-kurs på LKV med Louis Everard mandag 03.12.
Kurset vil gi deg en introduksjon i 3-lags silketrykk, inkludert overføring av bildet til en forberedt silketrykksduk ved bruk av UV-lys og trykking av bildet.
Maks antall deltakere er 4, og registrering kan gjøres ved å sende en e-post til:
mail@lkv.no
. Registreringen er bindende. Prisen for hele kurset er 1200, –
Deltakerne må ta med følgende:
– Motivet du vil trykke, som transparent,
– Eget papir for å trykke på, 
– Akrylmaling å trykke med.
Motivet må være A4 i størrelse, da vi trykker på A3-papir.
Papiret må være på størrelse A3, 220g minimum. X20 stykker maksimalt.
Vi har rammer, emulsjon, emulsjonsfjerner, silketrykksmedium (for akryl)
Kurset starter kl 12 og fortsetter til 17/18 estimert. Kurset holdes på engelsk.