**This course in postponed indefinitely**
Course on art in social media (SoMe) and how to catch the attention of journalists
Date: Saturday the 8th of January
Time: 12:00 – 16:00
Venue: The gym at Lademoen kunstnerverksteder
For who: Artists and small galleries
Sign up: E-mail to kurs@lkv.no by the 22nd of December to sign up.
Participants: Max 30
Course leader: Unni Irmelin Kvam
Language: Norwegian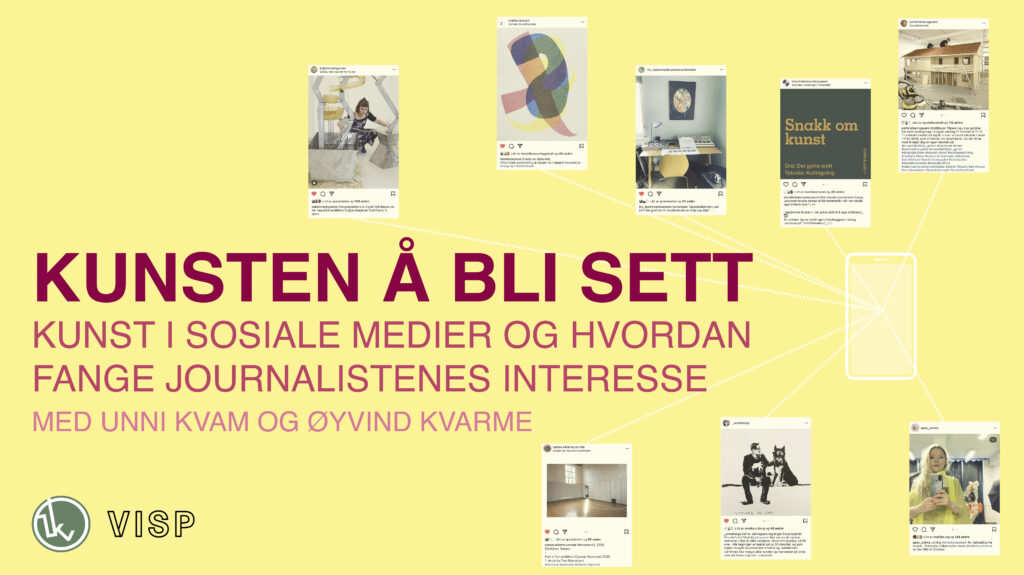 Are you an artist or producer of exhibitions? Then you are also a communicator. It might be a strong statement, but the fact is that art needs to be conveyed to reach the desired audience.
Our dream is that art will create groundbreaking headlines in the media and that our Instagram accounts will abound with dedicated followers. Can you think of three things at once: Art, social media (SoMe) and the press?
This course is about how you as an artist or small exhibition space can easily and effectively build and use a SoME profile to show art and market what you are passionate about. We will look at what it takes to make the press interested in your art.

Without communicating your art, no one has any idea what's going on in your studio or gallery. What can you do about it?

This is what you will learn:
Mechanisms for effective communication and marketing in social meda channels, with the main emphasis on Instagram and Facebook.
Dialogue: The inherent nature and power of the SoMe channels.
How to use and build a good SoMe profile.
How to work to get media attention about art.
Course leader
Communicator, historian, author and podcaster Unni Irmelin Kvam has for many years worked with communication for various cultural institutions such as KODE, the University of Oslo, the Natural History Museum and the Vigeland Museum in Oslo. In 2021, the Vigeland Museum's Instagram account was named "One to Watch" by the New York Times. She shares her best tricks for creating a SoMe profile, how to enter into a dialogue with followers and create a tone that makes you still get attention about what is most important in the world: art.
Guest

Øyvind Rongevær Kvarme is an educated art historian and educator. Currently working with dissemination and communication at Trondheim Art Museum, as well as leading various projects and curating exhibitions. Formerly, he has worked freelance as a writer and critic, and been involved in the Heimdal Kunstforening. Kvarme sits on the board of the Norwegian Art Associations and is a member of the Norwegian Curators' Association. On this course he will share Trondheim Kunstmuseums strategy on social media, and talk about how they work to reach their audience and how they collaborate with exhibiting artists.


The course is a collaboration between VISP and Lademoen Kunstnerverksteder and is supported by Trondheim municipality.