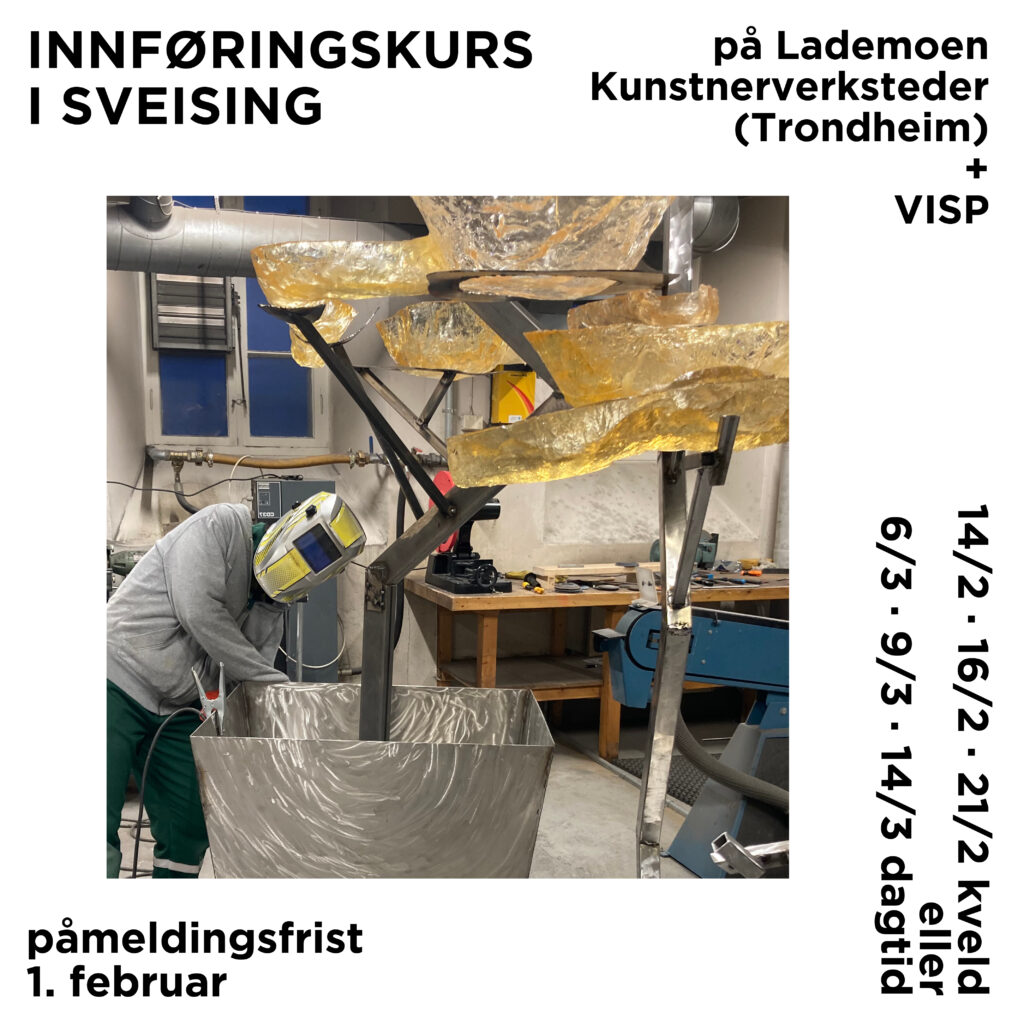 Course instructor: Ulf Amundstad
When: Course 1: 14/2, 16/2 and 21/2 – 2023 at 5-9 pm
Course 2: 6/3, 9/3 and 14/3 – 2023 at 12-4 pm
Where: LKV, Mellomveien 3A, Trondheim
Price: NOK 1000 (material costs)
Registration deadline: 1 February (registration form)
Lademoen Kunstnerverksteder (LKV) in collaboration with VISP are pleased to invite you to a three-day course in welding/metalwork at LKV. VISP is the competence and network organization for the visual art field and works to improve and facilitate the conditions for the production and dissemination of visual art.
The course provides a basic introduction to welding metal with a focus on welding black steel (ordinary steel). There is room for four participants per course and course participants get access to the metal workshop for the entire course period (1 week from the start of the course) to work / practice on their own.
During three evenings/days, the course participants will have the opportunity to learn welding and welding methods and possibly other welding methods if necessary. Course instructor Ulf Amundstad is an experienced welder who will facilitate as best as possible.
The course is suitable for beginners, but also those who think they can weld, but it was a long time ago now, and the last time you welded, the weld looked like a hole.
The course starts with a small theory part and HSE intro, focus on safety and protective equipment, as well as safety routines in the workshop, but most of all you will learn in various ways how to make metal fit together.
The course is not designed for you to produce something, but to learn and test different welding methods. The course is supported by Trondheim Municipality's corona funds and costs NOK 1,000 for professional artists.
Course participants do not need their own protective equipment, but course participants should have and bring their own work gloves and suitable shoes. LVK has welding masks, welding gloves etc. for the course participants.
Regarding registration for course 2 in March: The course can run in the evening instead of during the day if there is a great need for that.
Questions about courses can be directed to Per Kristian Nygård at nygaardpk@gmail.com
Registration is only accepted via the registration form below. Due to the very limited number of places, we will make a selection of the registered artists based on the required letter of motivation. At the beginning of February, you will receive a reply whether you have been allocated a place on the course.