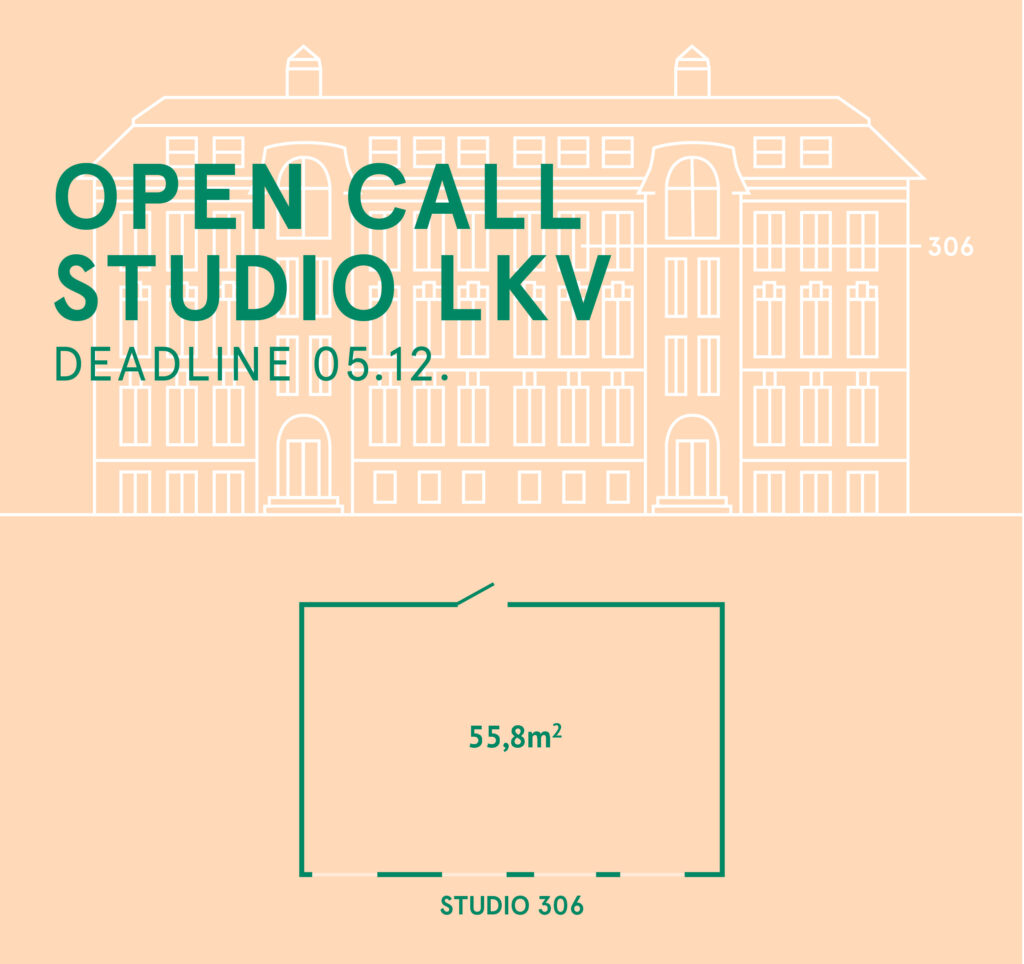 Studio 306 – ca 55,8 m2 – ca kr 2490,-/month
Application deadline: 5th of December 2021
Studio available from 1st February 2022
In addition to the rent, ca kr 260/month in fees applies.
NB: If a studio becomes vacant at LKV as a consequence of the allocation of studio 306, this will be offered to the second candidate for studio 306. Exception for studios reserved for newly graduates.
Lademoen Kunstnerverksteder (LKV) is a Foundation that runs a production space for professional visual artists, an interdisciplinary artist-in-residence program and the exhibition space BABEL visningsrom for kunst. Here you'll find 42 studios, in addition to two project rooms and workshops for printmaking, metal, wood, analogue photography and a ceramic oven. The workshops and project rooms at LKV are available for all professional artists in Trondheim.
The application must be submitted digitally as a single PDF-file, max 10 pages. If your application contains audio or video, send this as an online link in the application PDF-file.
Application must contain:
– Applicant's full name, registered address, residential address, email address, telephone number, organization number and other relevant contact information.
– CV and a portfolio
– Short presentation of your plans the upcoming years
– Description of how you would like to use the studio and workshops at LKV
Send your application via email to apply(at)lkv.no, marked «Application LKV». Contact us if you'd like to have a look at the studio and workshops at LKV or have other related queries.
Applications are reviewed by Trondheim Municipality Studio Assignment Committee. Award criteria can be found here (in Norwegian): www.trondheim.kommune.no/atelier/
Trondheim Municipality Studio Assignment Committee consists of:
– Carl Martin Faurby, Trondheim Kunsthall
– Solveig Lønmo, Nordenfjeldske Kunstindustrimuseum
– Erlend Leirdal, Norske Kunsthåndverkere Midt-Norge
– Astrid Findreng, Trøndelag Bildende Kunstnere
– Jan Felix Eberhard Gmelin, NTNU Kunstakademiet
– Barbro Tiller, Lademoen Kunstnerverksteder