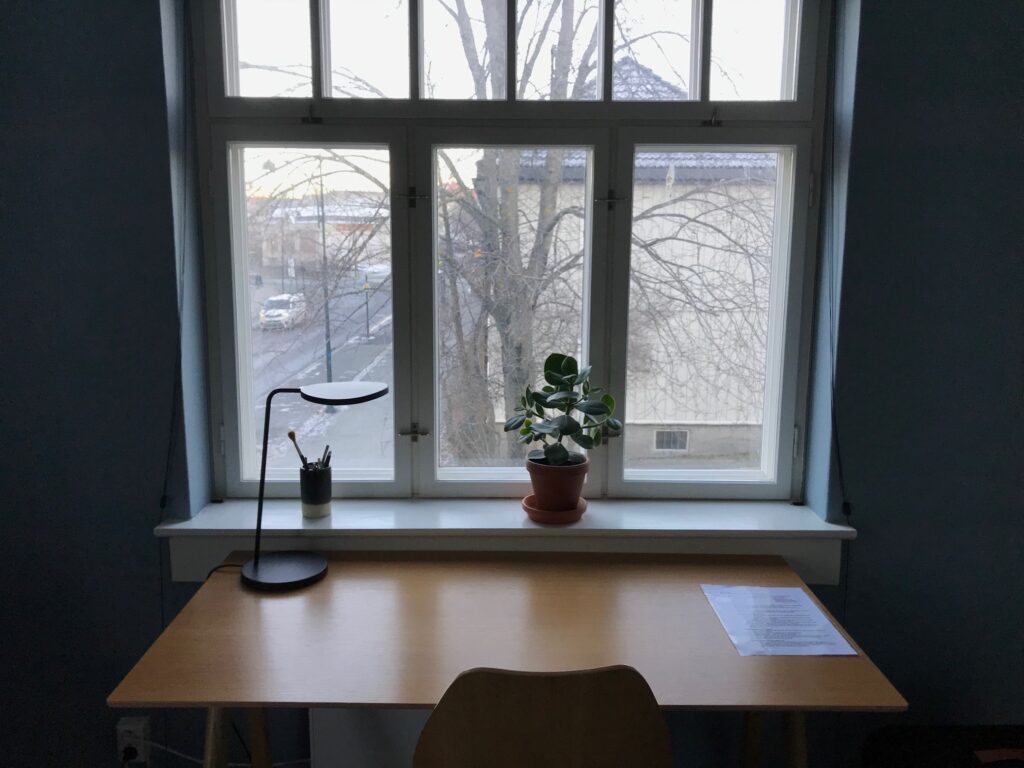 I samarbeid med Lademoen kunstnerverksteder (LKV) utlyser herved ArtScene Trondheim et gjesteopphold for en tilreisende kritiker i mars 2023 og i mars 2024. Den aktuelle kritikeren vil få opphold og arbeidsplass i inntil en måned ved LKVs tverrfaglige kunstnerresidens i Trondheim.
Tilbudet gjelder først og fremst kritikere som arbeider innenfor kunstkritikk, men også andre sjangre (scenekunst, musikk, dans etc) kan vurderes. Oppholdet kan brukes til faglig fordypning, til å bli kjent med regionens kunst- og kulturscene, og skrivearbeid. Trondheims kulturtilbud er i vekst, med nykommere som Kjøpmannsgata Ung Kunst, Kunsthall Trondheim og Galleri Dropsfabrikken. I 2023 åpner også storsatsningen Posten Moderne.
Les om tidligere gjestekritikere her
I løpet av gjesteoppholdet skal kritikeren gjennomføre en presentasjon av sitt kritikervirke, samt skrive en tekst som publiseres på artscene.no. Teksten kan ta form som kritikk fra regionens kunstscene, et intervju med en lokal kulturaktør eller et essay fra kritikerens faglige interesseområde.
Praktisk info:
Lademoen kunstnerverksteder tilbyr opphold i nyrenovert gjesteleilighet (ettroms) med skrivepult og internett.
Kritikeren dekker selv utgifter som kost, reise, forsikring, etc.
Kritikeren mottar et stipend pålydende kr. 12 000 fra ArtScene Trondheim.
Tekstoppdraget honoreres etter Kritikerlagets satser.
Periode: mars 2023 eller mars 2024 (Før opp hvilken periode som foretrekkes).
Ordningen er rettet mot kritikere bosatt i Norden. (Trondheimsbaserte kritikere blir ikke vurdert).
Søknaden skal inneholde:
Kort beskrivelse av ens kritikervirke
Motivasjon for arbeidsoppholdet
Teksteksempler (maks 3 eksempler)
CV
Spørsmål om oppholdet rettes til post@artscene.no
Merk søknaden: "Søknad kritikere" innen fristen mandag 23. mai 2022.
Juryen vil ha følgende sammensetning; Tore Kirkholt, instituttleder ved Kunst og medievitenskap, NTNU, Rebeka Helena Blikstad, daglig leder LKV og redaksjonen i ArtScene Trondheim.
_____
Stiftelsen Lademoen Kunstnerverksteder (LKV) driver et atelierfellesskap for 46 profesjonelle kunstnere, en tverrfaglig gjestekunstnerordning og BABEL visningsrom for kunst. 25 gjestekunstnere fra ulike deler av verden har opphold ved LKV hvert år, mellom en til tre måneder. LKVs fasiliteter benyttes også av eksterne leietakere som leier prosjektrommene og fellesverkstedene for egne kunstproduksjoner i kortere perioder.
Den tverrfaglige gjestekunstnerordningen er finansiert av Trondheim kommune og Trøndelag fylke. Den består av fire leiligheter og to atelier på Lademoen kunstnerverksteder. To leiligheter er forbeholdt visuelle kunstnere, mens to er forbeholdt kunstnere innenfor andre kunstfaglige disipliner, samt kuratorer og kunstkritikere. Gjesteatelier er forbeholdt visuelle kunstnere.
ArtScene Trondheim (AST) er et uavhengig nettmagasin for kunstkritikk og formidling. Vi belyser og diskuterer samtidskunsten i regionen, og er en aktiv deltager i den nordiske kunstdiskursen. I redaksjonen sitter Eline Bjerkan og Marit K. Flåtter.