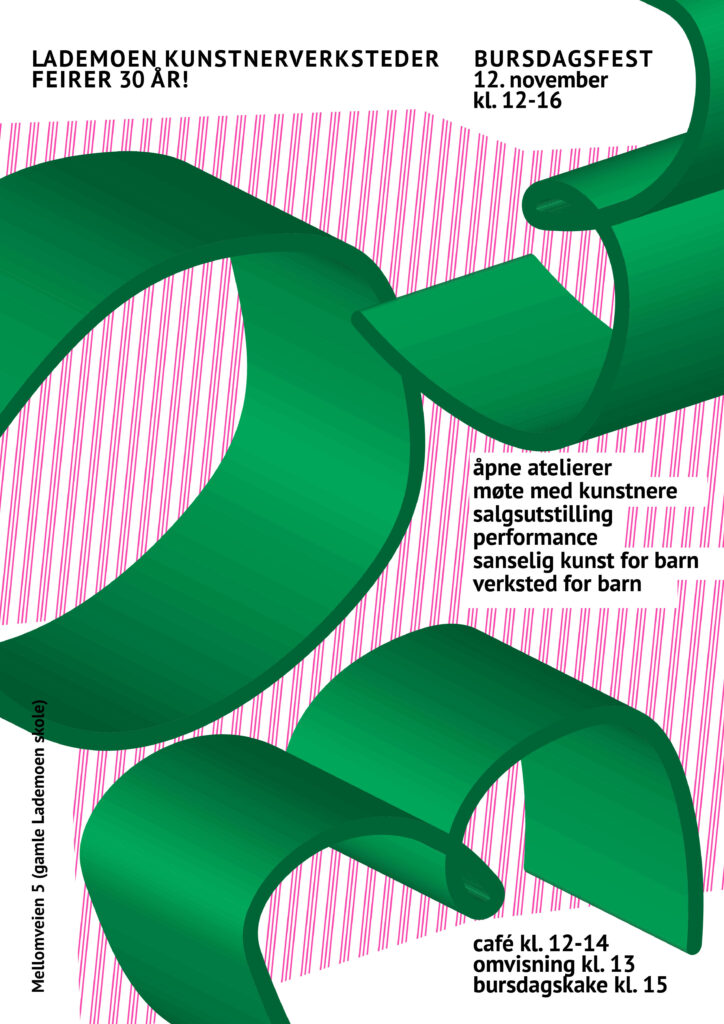 Lademoen Kunstnerverksteder (LKV) is celebrating its 30th anniversary and invites the whole town to join in the festivities on Sunday 12 November from 12-16.
Hurramegrundt and Hubba Bubba! Lademoen Kunstverksteder is 30 years old. This year. Around this time. The 30th anniversary will be celebrated in various ways, and on 12 November we invite you to a birthday party. The birthday party will include open studios, performances, activities for children, a café and a sales exhibition. There will be an exhibition with artists from the house where the art will be for sale. Cash N carry / Vipps N Go. Kristina Karlsen has created a Fantasy Room, a sensory room for the little ones. Linn Halvorsrød will hold a collage workshop for children and adults. There will be a performance by choreographer, dancer and researcher Nefeli Gioti, who is in residence at LKV, and at 15:00 a birthday speech by Morten Wolden, Director of Trondheim Municipality. This is the day to get to know the artists who have studios at Lademoen kunstnerverksteder. The day to visit artists you already know, and the day to make new acquaintances. Come and celebrate with us at Lademoen kunstnerverksteder! The doors are open from 12-16 and everyone is welcome.
See the programme:
Open studios 12:00-15:00
Imagination room for the little ones 12:00-15:00
Sales exhibition and collage workshop 12:00-16:00
Soup and coffee 12:00-14:00
Performance in the guest studio 12:30 and 14:30
Guided tour of the house 13:00
Cake and speech 15:00
—
Free entrance, allways!