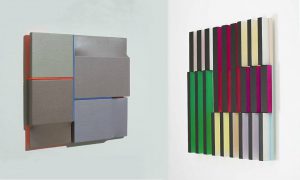 Welcome to the opening at Babel Art Space on Friday 14th of October at 7 p.m.
There are many lines to be drawn between hungarian artist Árpád Forgó and norwegian artist Edith Lundebrekke. Perhaps the strongest connection is a display a confident experimentation with space, geometrical shapes and colour that situates them within a firm abstract tradition. Both Forgó and Lundebrekke aim to challenge our physiological experience of these visual elements and how we perceive them. The exhibition Colour Kitchen presents several new works separately produced by the two artist but in the context of each others company.
There will be a short artist talk at the opening.