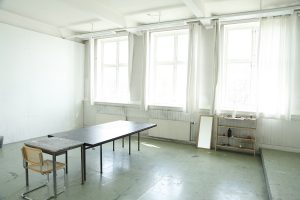 (english below)
Ledige atelier ved LKV (1 år)
Lademoen Kunstnerverksteder (LKV) vil i tidsrommet 01.01.2018 – 31.12.2018 ha to ledige atelier tilgjengelig for utleie. Begge atelierene er på 50 m2, og befinner seg henholdsvis i byggets 2. og 3. etasje. Leien er kr. 2500,- pr. måned og inkluderer tilgang til våre verksteder og alle fellesarealer. Det finnes også mulighet å leie seg inn i våre prosjektrom.
Lademoen Kunstnerverksteder er et produksjonsfellesskap for profesjonelle kunstnere lokalisert ved gamle Lademoen skole. LKV er Trondheims største atelierfellesskap med 42 leietakere fordelt på 38 atelierer. I kjelleretasjen har vi fellesverksteder for arbeid med tre, metall, grafikk, og analogt foto. LKV har siden 1996 driftet en internasjonal gjestekunstnerordning med to gjesteatelier og gjesteleiligheter, og drifter også visningsrommet Babel. I 2018 pusser vi opp leilighetene og utvider ordningen, og vil derfor ikke gjennomføre ordinær residencydrift dette året. Gjesteatelierene leies derfor ut i 1 år. www.lkv.no
Søknadsfrist: 20.11.2017
Søknaden behandles av Trondheim kommunes tildelingsutvalg for atelier. Svar til søkere kan forventes i starten av desember.
Krav til søknad:
Søknad sendes samlet som 1 PDF. Denne skal inneholde:
– CV
– Dokumentasjon av kunstnerisk virke (opp til 5 verk). Bilder, nettlenker til video/lyd og beskrivelser legges inn i PDFen. Den totale lengden på lyd- og videomateriale bør ikke overskride 5 min.
– En kort tekst (maks 2000 tegn) hvor du begrunner hvorfor du søker om atelier på LKV. Fortell gjerne noe om hvordan du har tenkt å benytte atelier og verksteder.
Send søknad til: mail@lkv.no
Ta gjerne kontakt hvis du har spørsmål eller ønsker å besøke LKV for å se på lokalene.
—————-
Available Studios at LKV (1 year)
Lademoen Kunstnerverksteder (LKV) have 2 available studios for rent from 01.01.2018 – 31.12.2018. The size of the studios is 40m2, and the rent per month is NOK 2500,-. The price includes access to LKV's workshops. There are also project rooms available for shorter periods.
Lademoen Kunstnerverksteder is Trondheims largest working community for artists, housing over 40 professional artists with studios placed inside an old school building in the center of Trondheim. The building consists of large studios and facilities for working with wood, metal, printmaking (silkscreen, etching and lithography) and analogue photography. The workshops are available for LKVs tenants at all hours. Workshops and project rooms are also available for rental externally. Since 1996, LKV runs an international residency program with two guest studios and apartments, in addition to Babel Art Space where guest artists can present themselves and their work. During 2018 the apartments will be renovated and expanded. The residency will therefore be put on hold this and the guest studios are available for rental for one year.
The deadline for applications is: 20.11.2017
Applications are reviewed by a committee with represntatives from LKV and local art institutions. Applicants can expect an answer by early December.
Application requirements:
Send your application as 1 PDF file. The PDF must include:
– CV
– Documentation of artistic work (up to 5 works). Put images, online video/sound-links and descriptions in the PDF. Totalt duration of attached video/sound-works should not exceed 5 min.
– A short text (maximum 2000 characters) where you say something about why you are applying for a studio at LKV, and how you intend to use the studio and workshops at LKV.
Send your application to: mail@lkv.no
Don't hesitate to contact us if you have questions or if you would like to visit us to have a look at the facilities.