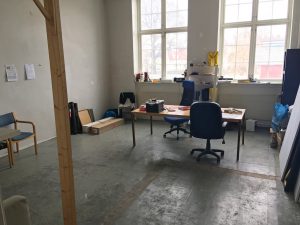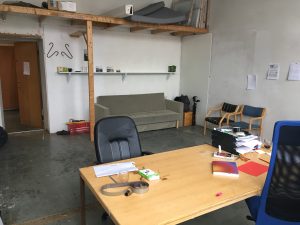 (norsk nedenfor)
Apply for a studio at LKV!
Available studio for graduating art students.
Room 101 – 33 m2 – ca. kr.1900,-/month.
Available from August 1 2018 until July 31 2019
Deadline: June 3
LKV is Trondheims largest working working community for artists. Here you'll find 38 studios, in addition to two project rooms and workshops for printmaking, metall, wood and analogue photography. Open call for studio 101 is announced every year as an opportunity for recent graduates from art academies to apply for a studio at LKV. An exhibition at Babel Art Space is also awarded the selected applicant.
Application must contain CV and a portfolio. In addition, write a short presentation of your plans for the coming year and say something about how you would like to make us of the studio and workshops at LKV.
The application must be submitted digitally as a single PDF-file. If your application contains audio or video, send this as online link. Contact us on mail@lkv.no if you'd like to have a look at the studio and workshops at LKV.
Send your application via email to:
Trondheim Kommune
Rådmannen for kultur
v/ Pia Skog Hagerup
pia.skog.hagerup@trondheim.kommune.no
Send a copy of your application to: mail@lkv.no
Applications are reviewed by Trondheim kommunes Tildelingsutvalg for atelier
Award criteria can be found here.
————————————————-
Søk atelier på LKV!
Ledig atelier for avgangstudenter fra kunstakademiet.
Rom 101 – 33 kvm – ca. kr. 1900,-/mnd.
Tilgjengelig fra 1 august 2018 til 31 juli 2019
Frist for søknader: 3 juni
LKV er Trondheims største atelierfellesskap for kunstnere. Her finnes 38 atelier, i tillegg til 2 prosjektrom og verksteder for arbeid med grafikk, tre, metall og analog foto. Verkstedene ved LKV er tilgjengelige for LKVs faste leietakere og alle andre profesjonelle kunstnere i Trondheim.
Utlysning av Atelier 101 gjøres av LKV hvert år og retter seg mot nyutdannede kunstnere. Søkere som blir tildelt atelier 101 får også mulighet å stille ut på Babel Visningsrom mot slutten året.
Søknad skal inneholde CV og portfolio. Skriv også kortfattet om dine planer for det kommende året og hvordan du ønsker å ta i bruk atelier og verksteder ved LKV.
Søknaden må sendes elektronisk og samlet i én pdf-fil. Hvis søknaden inneholder lyd eller video sendes dette som nettlenk. Ta kontakt på mail@lkv.no hvis du vil komme og se på atelier og verksteder som er tilgjengelige på LKV
Søknad sendes per email til:
Trondheim kommune
Rådmannen for kultur
v/ Pia Skog Hagerup
pia.skog.hagerup@trondheim.kommune.no
Send kopi av søknad til mail@lkv.no
Søknader behandles av Trondheim kommunes Tildelingsutvalg for atelier
Tildelingskriterier kan leses her.